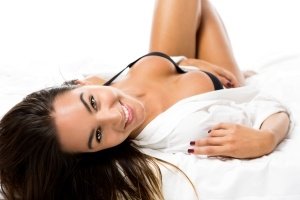 Anal sex is still taboo to many people, but it is growing in popularity at a fast rate and is generally much more prominent in todays culture. Party chat is a great intro. It is a little different from spanking your meat though, so it is a good idea to do some research and take it slow. Here are a few quick points that will get your journey off to a safe and fun start.
Lube:
Can't stress this one enough. In order to get things comfortably up your butt, lube is a key ingredient. Make sure to use enough. If you aren't sure if it is enough, go ahead and use some more. When that sexy strap-on phone sex Mistress wants you to go a little deeper, add a little lube first. If it starts to wear off, you can always add more later.
Gloves:
Fingers are great, non-latex medical gloves are a great tool to use on your journey. Your fingers come in many different sizes and you are in the most control over them (versus a toy) when exploring your body. Make sure your lube works well with your gloves. Start with one finger, around the rim and then gently in. When you are comfortable move on to two and then maybe three.
Toys:
Pro-tip – Start small. Having a few options for your phone sex girl to pick from is a good idea. The thickness of a toy is important. Sometimes you have to start pretty thing and work your way up in thickness. Also remember that your ass needs to be warmed up. Take your time with your fingers or a thinner toy before moving up to a thicker toy. Do this each time you play with your ass.
Relax:
Take it slow, especially at the beginning. If you feel yourself tensing up a lot, go-ahead ant take a minute to breath in and out and get to a more relaxed state. A relaxed ass will take toys and fingers much more readily. If it doesn't happen the first time, it's ok. Put it aside and try another time, your fantasy phone girl will understand.
It's a fun experience to share with someone, and having someone there to walk you through it can be a big asset. Phone sex women are ready to assist and add even more great tips and pleasure to the experience!