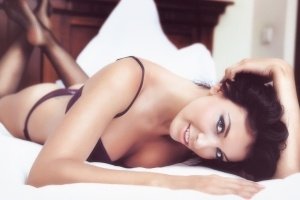 Let's say you decided to try our free phone sex line, and you met that awesome, smart and funny girl. You're definitely crushing on her, but you don't know each other enough yet to be ready to meet in person. However, you keep hanging out together more and more on the chat line, and who knows, maybe having sex over the phone.

At this point, you may ask yourself how you can make every encounter unforgettable, even if you aren't physically together.
Perhaps you didn't know that many people in the sex chat community actually plan mobile chat dates over the phone, and that they put so much time and effort to make everything special, just like if they were dating in person. It just takes lots of creativity, and an authentic desire to make the person on the other end of the call line feel very special.
Here are some ideas to create your own sexy or romantic date with your sex talk buddy. Who knows, maybe you'll inject so much spark in your phone flirt, that you'll soon decide to start dating in person!
Dine and wine together, even from a distance. Plan to hang out together on the phone chat at the same time, when you both will be having dinner. Sharing something together, even if from a distance, may create a sense of intimacy. Treat yourself exactly as if it was a romantic dinner in real life, and ask her to do the same. Light some candles, cook something special, and don't forget a good dessert! Of course, you can decide to have a happy ending to make the evening even more special, with a good dirty talk instead of the dessert.
Play games over the phone. Of course, the first phone game that comes to mind when we talk about dating with a sex call line buddy, is strip poker from a distance. It can be real fun! But there are many other games that you can use to spice up your evenings. For example, try an 18+ version of 'Never Have I Ever' or 'Truth or Dare'. It will make for an unforgettable foreplay session before moving to steamy phone sex…
Ready for an awesome phone date with your crush?