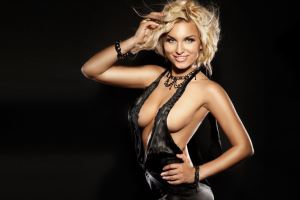 Our growing community of free kinky chat line Mistresses know very well how to dominate over the phone. Or, if you like to be in charge yourself, don't worry. We got you covered with many slaves or girls who like to be the submissive one in a scene.
But at this point you're probably wondering, "How can I create a BDSM scene without being physically with the other person? What about restraints, whips and spanking paddles?"
Well, you probably need to know that, no matter what you read in the famous "50 Shades of Grey" saga, domination and submission are more mental than physical. If you've already got some experience in the lifestyle, you will probably remember a time when you couldn't stop thinking about your Dominant. Perhaps when she sent you home with a rope harness tied under your clothes, or when she left red hot flogging marks on your skin.
Obviously, the same kind of psychological game can happen on the phonesex chat line too: try those tips from our most kinky users, and you'll finally be able to live the BDSM session of your dreams!
● Have her assign you some homework. If she wants you to be her slave, she'll probably ask you to do everything she wants with no complaints. This includes simple, mundane tasks. She'll order you to dress in a certain way, to hide a butt plug or nipple clamps under your clothes or to wear a special kind of underwear. Since she isn't there to verify if you're obeying, photo proof will be required!
● Self-administration of pain. Buy a spanking paddle or a beginner's flogger if you haven't got one already: you can always whip yourself as she pleases. It may feel weird at first, and you may need some time to get used to the strange feeling, but things will soon become very hot! As usual, send her photo or video proof.
● A chastity device, or orgasm denial. This game is probably best for long term phonesex buddies, who know a lot about each other's bodies: she'll tell you when and if you can orgasm. She'll have fun teasing you while the prohibition for you to reach climax is still valid. What's more Dominant than this? You can also incorporate a chastity device in your game.
Ready to live the best BDSM sessions of your life on mobile chat for free?